Kiosk Locations
Loaner laptops in the A-Lend-A Laptop program are available at vending kiosks in the following locations:
Little Library, 1st floor - 12 computer kiosk (6 Macs, 6 Dells)
Wall Academic Center, 3rd floor (near the doors between Wall and the old Martin) - 6 computer kiosk (3 Macs, 3 Dells)
Alvarez Union, 4th floor - 12 computer kiosk (6 Macs, 6 Dells)
Best Practices When Using Loaner Laptops
Don't save data directly to the laptops - we erase them periodically. Instead, upload your work to Dropbox, Google Drive, Moodle, etc.


If you notice any damage to the computers or the railing system attached to the computers, do not return the laptop to the kiosk. Return the laptop to the Union ticket office or the Library front desk. If the rails are loose or detached, the kiosk will not register your return correctly, resulting in late fees.


If the closest kiosk is full, use laptops.davidson.edu to find an open slot matching your OS (Mac/Windows) elsewhere on campus.
Kiosk Dashboard
Students can view the availability of all laptops in all kiosks by visiting laptops.davidson.edu, a new mobile-friendly dashboard that indicates the status of each laptop kiosk bay.
Dashboard Operating System Legend
| | |
| --- | --- |
| | macOS: This bay holds a Macbook laptop running macOS. |
| | Windows: This bay holds a Dell laptop running Windows 10. |
Dashboard Status Legend
| | |
| --- | --- |
| | Ready: The laptop in this bay is ready and available for checkout. |
| | Charging: Someone recently returned a laptop to this bay. After the laptop charges, it will be available for checkout. |
| | Empty: Someone checked out the laptop in this bay. They'll need to return it before it becomes available again. |
| | Maintenance: T&I is repairing the laptop in this bay. It's not available for checkout right now. |
Dashboard Notifications
Students who view the kiosk dashboard from a public desktop computer can elect to receive in-browser notifications when a kiosk bay changes status. For example:

On a desktop web browser, you can allow or deny a website the ability to display in-browser notifications. In the screenshot below, a Google Chrome user would click "Allow" to permit laptops.davidson.edu to display in-browser notifications.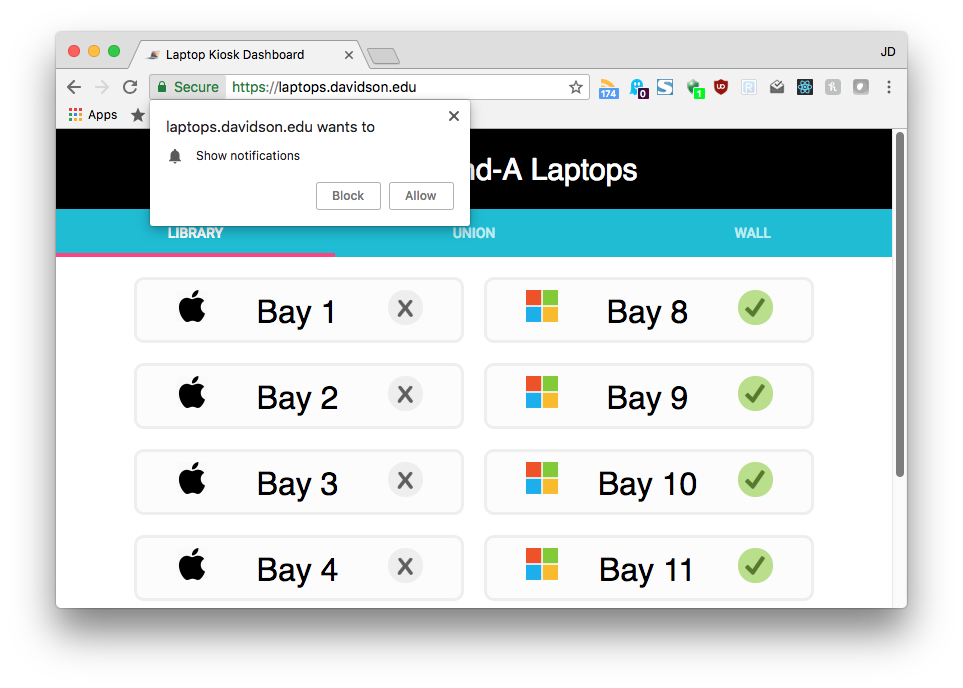 Dashboard Known Issues
If a laptop kiosk experiences a hardware malfunction in one of its bays, that bay may disappear from the laptops.davidson.edu dashboard.


The Dashboard requires a modern mobile or desktop web browser. Outdated web browsers running on older operating systems may perform poorly when viewing the Dashboard.


Microsoft Internet Explorer is not supported. Use Microsoft Edge, Chrome, or Firefox instead.
Important: To use the Respondus LockDown Browser on a Davidson public lab computer or kiosk laptop, you must use the macOS operating system. If the public lab computer in front of you is running Windows, you can either reboot into macOS or you can move to a computer already running macOS.