Microsoft recently announced that it will disable the Zoom Mac Outlook Plugin in May of 2021. In order to continue scheduling Zoom meetings directly from Outlook, you will need to uninstall the plugin and download and install the Zoom for Outlook Add-In.


Follow the steps below to uninstall the Zoom Mac Outlook Plugin and install the Zoom for Outlook Add-in. Please note: This change only applies to Mac users.

Step 1: Uninstall the Zoom Plugin
Go to your applications in Finder and enter the folder labeled ZoomOutlookPlugin.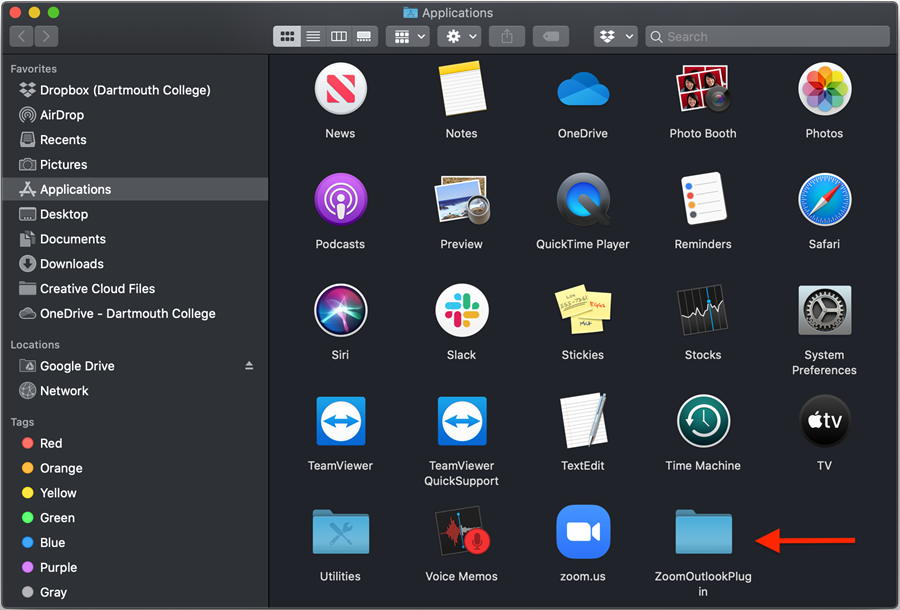 Double-click Uninstall (uninstall.exe) and enter your computer's password.
Note: the uninstall process may cause Outlook to become unresponsive or quit expectedly. If this happens, re-launch Outlook and continue.


Step 2: Install the Zoom Add-In
Before moving forward, check to see if the Zoom Add-In is already installed

. Go to the Outlook app on your computer, open your calendar and open an existing meeting.




If you see the Add a Zoom Meeting icon in your toolbar

, the Add-in is already installed and you can simply click on the icon and sign in using the instructions below (#6).



If you do not see the icon, open a web browser and go to

outlook.davidson.edu


Open an email message and click on the ellipses (three dots) on the right



Select

Get Add-ins from the list.



Browse

My Add-ins

or

Admin managed on the left to quickly find and add the Zoom for Outlook Add-In.



The new Add-In should appear when you

create or open a calendar event.



Create or open a calendar event to view the Add-in. Then click the icon and

Sign in with SSO.




Enter Davidson in the text field, so that it reads

davidson.zoom.us

. Click

Continue.



Log in with your Davidson credentials,

check the box to "remember me"

before you authenticate with Duo.