This article provides Zoom meeting information and recommendations to maximize security in your Zoom meetings and minimize potential outside disruptions (also known as Zoombombing).
Zoom Meeting Best Practices

Review our best practices for steps you can take to manage particpants and protect your meetings.
Know your audience:

Be intentional when inviting people to Zoom meetings. Inviting users using Davidson email, sharing links in your Moodle course, or other Davidson internal communication methods helps you identify and manage meeting participants. If you want to know exactly who is in your meeting, avoid sharing links on social media.




Manage screen sharing:

Host-only screen sharing is the default setting to reduce the risk of Zoombombing. You still have the flexibility to allow sharing with trusted participants using the manage screen sharing instructions below.




Customize your meeting settings:

Hosting a staff meeting, counseling session, interactive class discussion forum? Customize your settings to get the most out of your meetings. Some settings can be changed while hosting, such as those in the Security tab. Others must be configured when scheduling a meeting. For more information on settings, review Zoom's article,

changing participant settings

.




Hosting a large group or public event:


Hosting a large group or public event? Zoom provides options to share while limiting disruptions from unwanted participants, more commonly referred to as "

Zoombombing".

You can stream a Zoom Meeting live on YouTube. This allows participants to join your meeting via Zoom to view it and comment on it via YouTube. Review these steps to Enable YouTube Live Streaming for Meetings.

Need to share a Zoom link for a public event? Before sharing a Zoom meeting link on a public site, use the guidance below to customize the meeting settings. We also recommend assigning a co-host to help monitor meeting participants to minimize meeting interruptions.



To customize meeting settings for publicly shared links, login at

davidson.zoom.us

, then choose settings on the left menu.

Change your screen sharing settings (

see steps below

)

Lock the Meeting - When you lock the meeting, no new participants can join, even if they have the meeting ID and password.

Mute participants upon entry

- Mute all participants when they join and control

whether participants can unmute themselves

.

Join before host

- If disabled, participants can only join after the host starts the meeting

.

Waiting Room

- The host controls when a participant joins the meeting. You can admit attendees one by one or admit them all at once.

Modify Chat options - Prevent participants from saving chat or from sending private

messages

to other participants.

Annotation - The host can disable attendee annotation.

Request Remote control of the host's screen - The host can disable attendee requests for remote control of the host's screen.

Authenticated Users -This is an optional feature that you can use when scheduling meetings with participants from the college. When using this feature, participants are required to authenticate with a Davidson account before joining the meeting*.
*This feature should not be used if you have participants/guests joining from outside of Davidson College.

If a wired network connection is available to you, use it! Wired networks are generally faster, more reliable, and more stable than wireless networks, and can prevent audio/video issues and connection loss.

Enable a password for your meeting - You can add a second layer of security to your meetings by adding a meeting password.
If you are using a Personal Meeting ID, do not share it publicly.
Manage participant sharing settings when scheduling a meeting:
Log in to Zoom at davidson.zoom.us and select settings from the list shown on the left. Chrome is the preferred browser for Zoom's web client.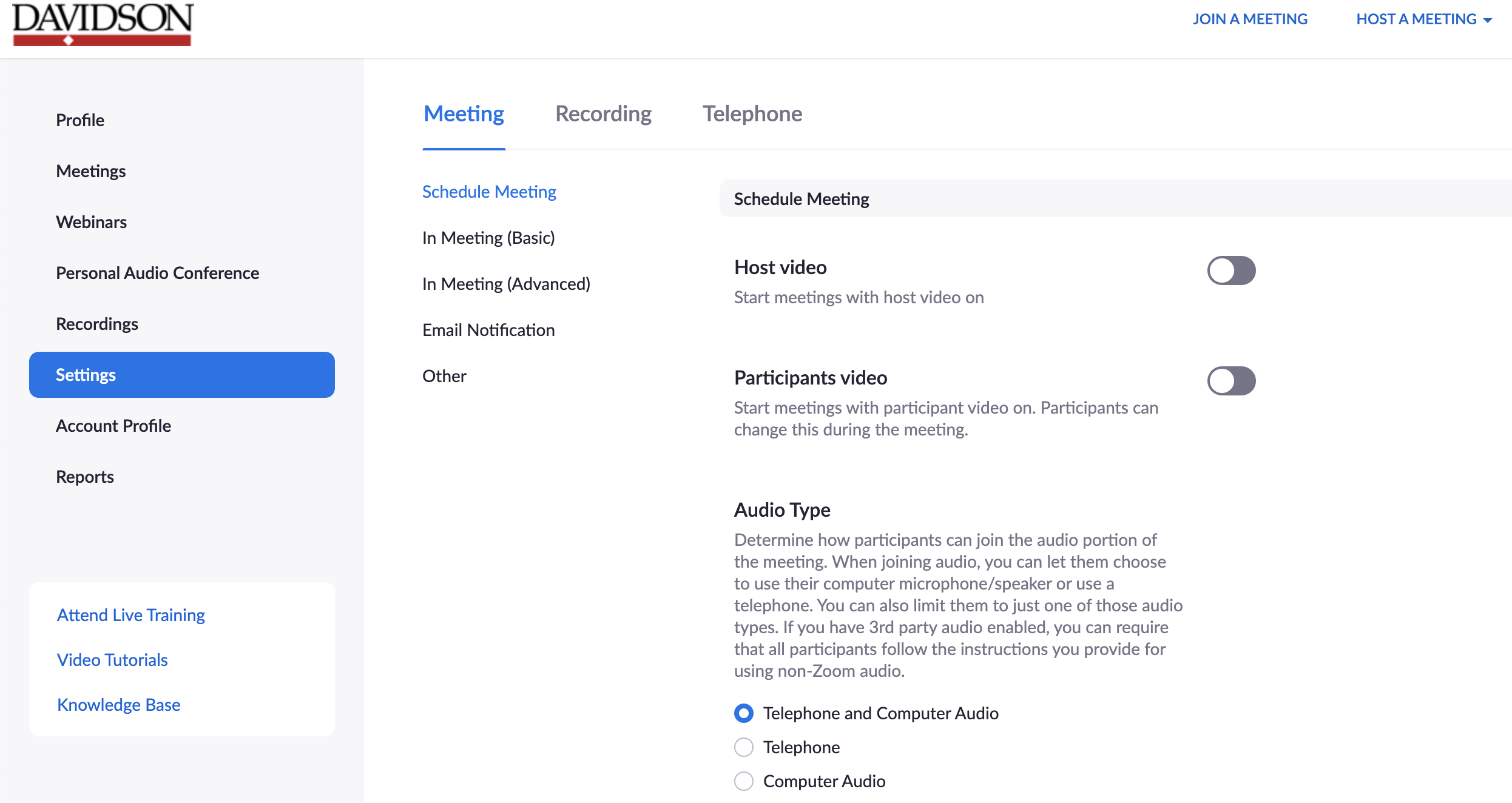 Scroll through the options to find Screen Sharing

Option 1 Choose who can share: Host Only share or All Participants.
Option 2 Choose who can start sharing when someone else is sharing: If Host Only is selected the host can approve screen sharing from if Option 1 is set to all participants.
Manage participant sharing settings when hosting a meeting:
Select screen sharing from the menu at the bottom of your meeting screen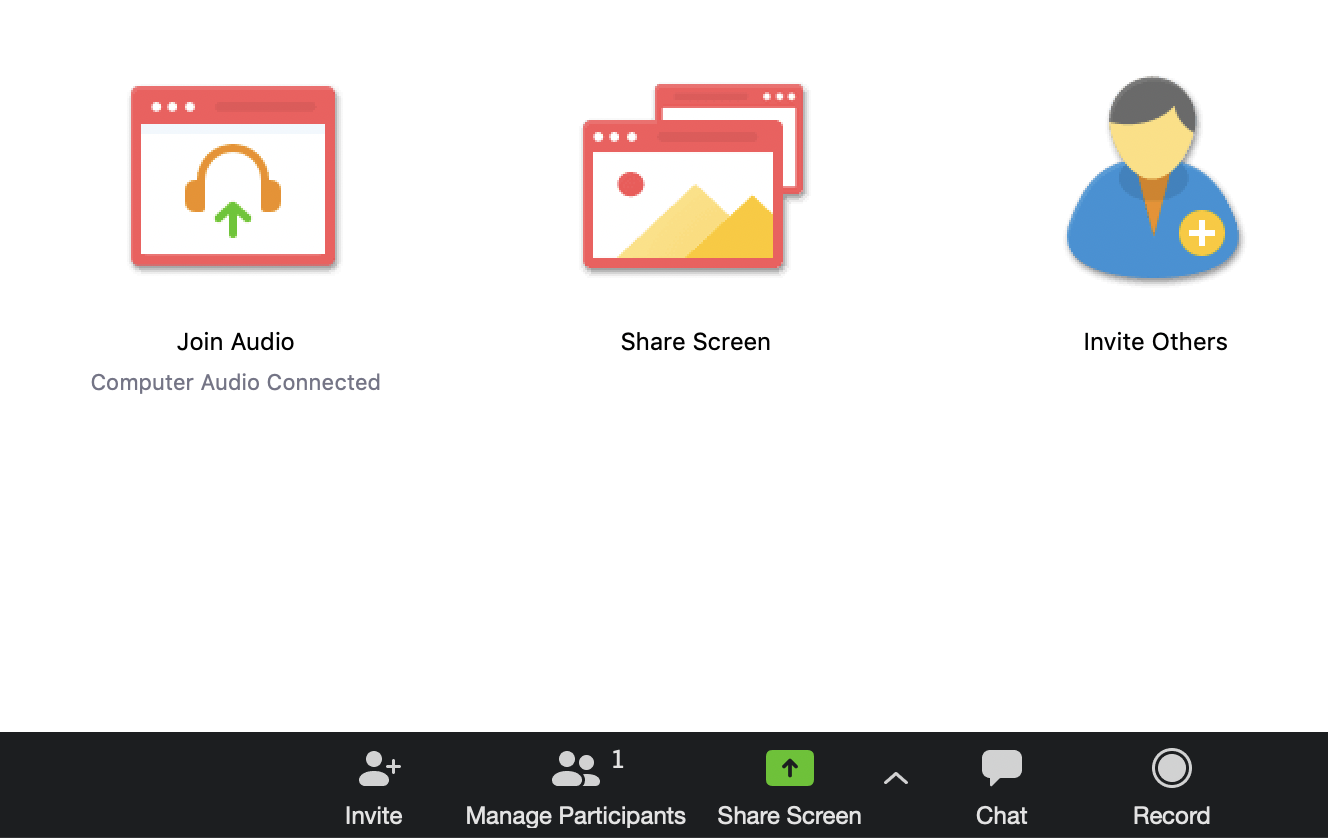 Click the ^ to expand the menu of options

Select Advanced Sharing Options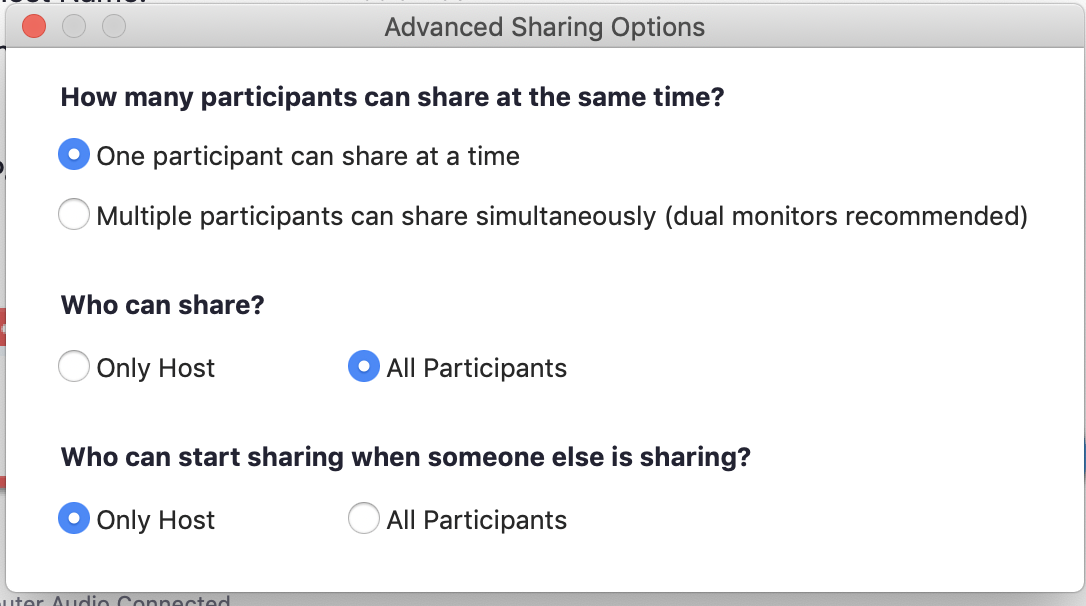 Choose who can start sharing when someone else is sharing