Table of Contents
Duo Device and Software Requirements
Configuring Duo on a New Phone
Authenticate Using a Duo Passcode
Authenticate Using a Duo Token
My Primary Duo Authentication Device is Lost or Broken
Add an Additional Device to Duo Mobile
Using Duo with Cisco AnyConnect VPN
Use Duo Mobile to Protect Non-Davidson Accounts

Duo Security FAQ
What is Duo? Duo two-factor authentication adds a second layer of security to your accounts. Verifying your identity using a second factor, like your smartphone, mobile device, hardware token ,or entering a security code, prevents anyone but you from logging in, even if they know your password. You'll login as usual with your username and password, and then use your device to verify that it's you.
Q: What services are protected with Duo?
A: All applications that offer SSO (single sign-on), such as Office 365, Dropbox, Moodle, Zoom, Slate, Maxient, and Google Docs require Duo two-factor authentication. Additionally, VPN access from off-campus and confidential applications like Banner and Blackbaud require Duo.
A: There are several methods to authenticate in Duo:
Duo Mobile Push
If you use your smartphone or tablet, you can install the Duo Mobile app and send a notification to your device. To authenticate, you choose to Accept or Deny the request on your mobile device.
Duo Mobile Passcode
If you use your smartphone or tablet, you can install the Duo Mobile app and generate a temporary passcode from that app. This works even if you don't have access to wifi or cell phone service.
Using a provided Duo token
If you cannot or will not use your mobile device to authenticate, the T&I Support Center can provide you with a Duo token. You will press a button on the token to generate a passcode that you can then enter in the portal.
Using a personal hardware token/fob
If you have a hardware token already (ex: Yubikey), you can insert the token like a USB and tap it to authenticate.
Do I need a smartphone to use Duo? What if I don't have a smartphone?
A: If you have a smartphone, you'll find it makes Duo more convenient.
You probably already have your smartphone with you, and it's easy and quick to acknowledge a login through the Duo app.

You can choose to use the Duo app for two-factor protection on personal services like Gmail, Instagram, Facebook, and other sites.

If you do not own a compatible smartphone, T&I will provide one Duo key fob (for students) or one authentication key (faculty/staff) at no cost.
Q: I already log in to services frequently. Will this slow down my work or studies?
A: We hear you, and we're working to make login faster and more efficient.
T&I is moving our most widely used services (including email, Dropbox, Moodle, Google Suite, Zoom and more) to a common login experience, so you won't be prompted to log in as often. More services, like Banner Self-Service, will join this login experience over the course of the year.

With the roll-out of Duo for everyone, you'll be able to opt for Duo to "remember me" when you sign in. This will reduce the number of Duo prompts you receive on that device.

We are working to improve the ease of accessing services in other ways. For instance, we are evaluating ways to make a number of IT services available from off-campus without VPN later this academic year.

Duo Device and Software Requirements
For security reasons, users are required to keep their devices up-to-date. If you are a high-risk user, you will be required by Duo to do so.
You will be warned, and perhaps blocked, whenever your OS, Flash and/or Java plugins, or browser are out of date. If you are blocked, please contact the Support Center.
Please note that these are the minimum requirements and that it's always a good idea to keep your devices up-to-date.
Mobile Device Requirements
| | |
| --- | --- |
| Device Type | Supported Platform |
| iOS | iOS 11.0 or newer |
| Android | Android 7.0 (Nougat) or newer |

OS and Software Requirements
All users will be warned whenever your OS, Flash and/or Java plugins, or browser are out-of-date and blocked if they do not meet the following requirements:
If you are having difficulties with Duo, read about some of the common issues below to help troubleshoot.
If you are using Duo Mobile, does your phone have a screen lock?
Is the date and time on your device correct?
In order to authenticate properly, the date and time on your device needs to be correct. You can typically set your device to automatically adjust the time settings.

Configuring Duo on a New Phone
New Phone? No problem! If you still have your old device, you can use the instructions below to activate Duo on your new device.
From‌ ‌a‌ ‌desktop‌ ‌or‌ ‌laptop‌ ‌computer,‌ ‌go‌ ‌to‌ ‌‌
outlook.davidson.edu‌‌
.
Enter your Davidson email address and password when prompted.
You will then automatically be redirected to Duo.

‌
1.
Click‌ ‌on‌ ‌the‌ ‌"Add‌ ‌a‌ ‌new‌ ‌device"‌ link on the left menu ‌to‌ ‌continue.

‌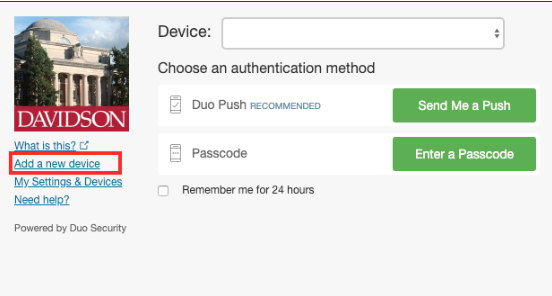 2.
Choose‌ ‌a‌ ‌method‌ ‌to‌ ‌authenticate‌ ‌with‌ ‌Duo.‌ ‌

If‌ ‌you‌ ‌do‌ ‌not‌ ‌have‌ ‌your‌ ‌old‌ ‌device,‌

‌
please‌ ‌contact‌ ‌T&I‌ ‌at‌ ‌‌
704-894-2900.‌
Note: iOS users: If you activated iCloud Keychain on your old device, you can add a new device to Duo, even if you don't have your old phone.
‌Click here for more information.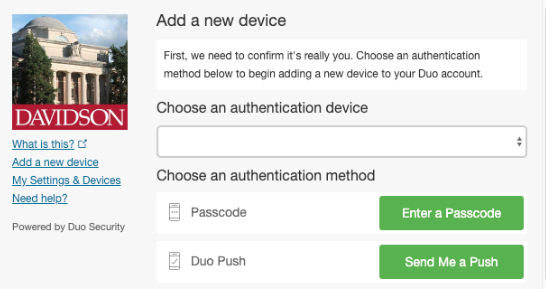 3.
Choose‌ ‌the‌ ‌type‌ ‌of‌ ‌your‌ ‌new‌ ‌device,‌ ‌and‌ ‌click ‌Continue.‌ ‌Follow‌ ‌the‌ ‌instructions‌ ‌to‌

‌
download‌ ‌the‌ ‌Duo Mobile app‌.

‌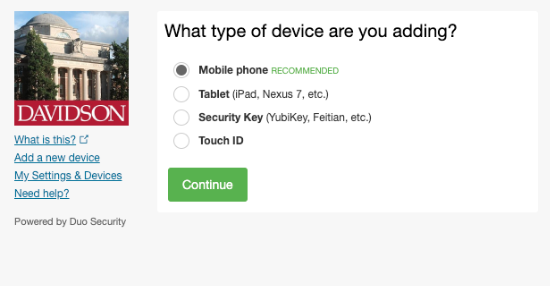 4.
(Mobile‌ ‌Phone‌ ‌Only)‌ ‌If‌ ‌your‌ ‌new‌ ‌device‌ ‌is‌ ‌a‌ ‌mobile‌ ‌phone,‌ ‌verify‌ ‌your‌ ‌phone‌ ‌by‌ ‌clicking‌

‌
on‌ ‌Text‌ ‌me ‌and‌ ‌enter‌ ‌the‌ ‌verification‌ ‌code‌ ‌you‌ ‌received‌ ‌via‌ ‌text‌ ‌message.‌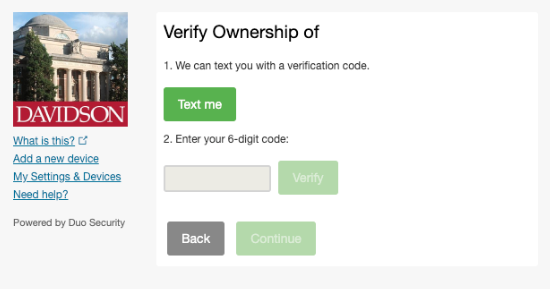 ‌


5.
Select‌ ‌the‌ ‌type‌ ‌of‌ ‌phone‌ ‌you‌ ‌have‌.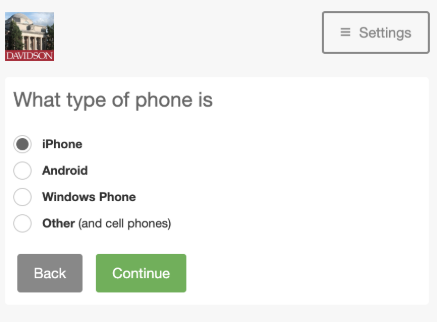 6.
Install‌ ‌the‌ ‌Duo‌ ‌Mobile‌ ‌App‌ ‌,‌ ‌if‌ ‌you‌ ‌haven't‌ ‌done‌ ‌so‌ ‌already.‌

‌


7. On your new phone, open the Duo mobile app, press the + button at the top, and scan the barcode on your computer screen.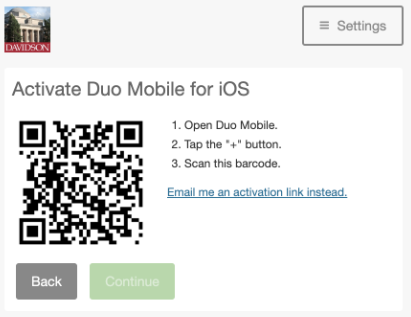 You should now see Davidson College listed in your Duo mobile app on your new device.

Authenticate Using a Duo Passcode
Duo passcodes work without an internet connection. If your mobile device does not have cell signal, data, or a WiFi connection, the mobile passcode option will still allow you to authenticate.
Supported Browsers
Click the dropdown above
You can choose to remember your device for a period of time


Choose
Enter the given passcode.

Authenticate Using a Duo Token
Supported Browsers
Click the Device dropdown
Choose
Enter the passcode into the Duo portal.

My Primary Duo Authentication Device is Lost or Broken
We recommend that you follow these instructions ASAP if you've lost your device so that no unauthorized person(s) can access your account.
Next to the lost device, choose D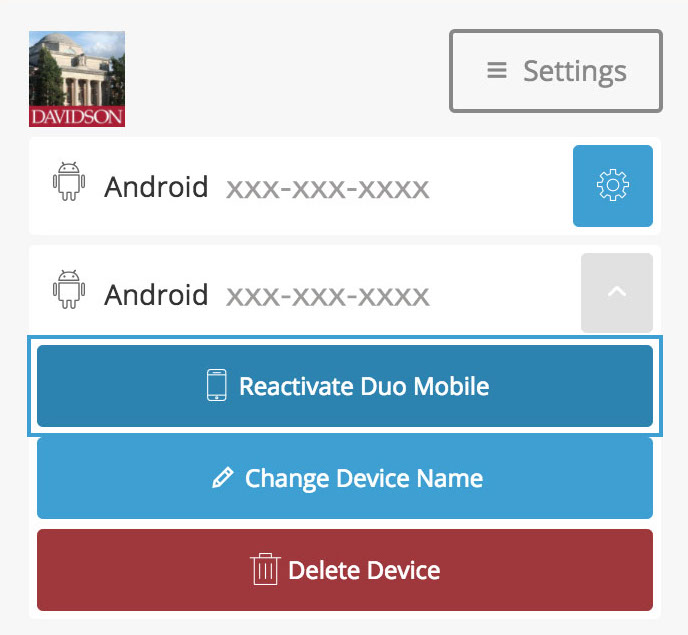 Add an Additional Mobile Device to Duo Mobile
We recommend that you add a second device in Duo in case you forget or lose your primary authentication device.
On the new mobile phone:
- Open the Duo Mobile app
- Tap the + button
- Use the camera on your device to scan the barcode on the screen
On the new tablet:
- Open the Duo Mobile app
- Tap the + button
- Use the camera on your device to scan the barcode on the screen

Using Duo with Cisco AnyConnect VPN
If you are abroad, you should be able to authenticate as usual by using Duo. If you do not have access to cellular service, you must choose the Enter a passcode option to authenticate using the Duo Mobile app.
To use VPN, you'll need the Cisco AnyConnect application on your Windows or Mac computer. Download Cisco AnyConnect
Open Cisco AnyConnect. If this is your first time connecting to Davidson, enter vpn.davidson.edu in the text field.


Press Connect.
Choose the appropriate Group for your needs:

04-Tunnel (Highly recommended on public WiFi or an unknown network) encrypts and protects all your traffic. This improves privacy and security, but commercial Internet sites will load more slowly. Use this when traveling or in public or untrusted locations like coffee shops, airports, and hotels.

01-Regular encrypts and protects only communications between you and the Davidson campus. This improves your Internet speed but is less secure, so use this from a trusted network like your home when you only need to securely access on-campus resources.
Enter your username (without @davidson.edu) in the Username field, then enter your account password under Password as shown below.


In the Second Password field, you'll enter one of two options for Duo.

Option 1: Type push to authenticate with a Duo push on your phone. Confirm the application and location before pressing Approve.

Option 2: Type your six-digit passcode generated by your Duo Token or the Duo Mobile App. This option can be useful if you don't have access to cellular data (while abroad, for example).
After the first time you connect to vpn.davidson.edu using Duo, you will see that hostname replaced by VPN. Use VPN from off-campus.
If you experience any problems connecting, please close your AnyConnect client and restart the application.

Use Duo Mobile to Protect Non-Davidson Accounts
The Duo Mobile Application can not only provide a second factor for Davidson-protected services, but it can also generate passcodes to act as a second factor for other applications you might want to protect like a password manager or online banking account.
| | |
| --- | --- |
| Google | Amazon |
| LastPass | Twitter |
| Dropbox | Facebook |

Under their 2FA options, choose
Open the Duo Mobile App on your mobile device.