Zoom Phone replaced Cisco as Davidson's telephone provider on June 30, 2022. On this date, all Davidson faculty and staff with college phone numbers began using Zoom Phone to make and receive phone calls. For more information, see the Getting Started with Zoom Phone Guide.
Zoom Phone Settings on the Zoom Web Portal
Whether you use a traditional desk phone, bluetooth device or your computer speakers, you'll use the Zoom web portal to adjust your Zoom Phone settings.
Sign in to the Zoom web portal by going to https://davidson.zoom.us/ and clicking "MY ACCOUNT" in the upper right corner.
Click Phone, then click the Settings tab.



Essential Settings
Emergency Address: While on campus, whether you use a traditional desk phone or the Zoom app, your emergency address will be automatically detected. If you work remotely, you must enable 911 Location Permissions and add your remote address as a Personal Emergency Address. This will help emergency responders find you. For detailed instructions on enabling 911 Location Permission and how to add Personal Emergency Addresses, click here: Zoom Phone - Adding E911 Locations

Phone calls
After setup, you can start making and receiving calls using Zoom Phone. Make calls using the dial pad under the Phone option, or search through your internal, external or synced contacts. For incoming calls, you can decline a call to route it to your voicemail.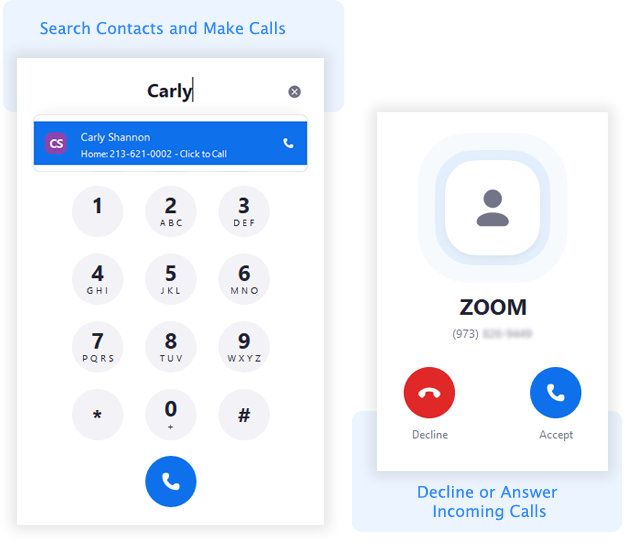 In-Call Controls
While in a call, you can:
Contacts
By default, you can call any Davidson contacts directly in the Zoom Phone app on your computer or phone. With the Phone section selected in your Zoom app, begin typing any contact name or number in the "Enter a name or number" line to pull up related Davidson contacts.

To add contacts from outside of Davidson to Zoom Phone:

Zoom Desktop client: Sync your contacts with Google, Office 365, or Exchange. After syncing your contacts, you can add synced contacts using your call history or voicemail.

Zoom mobile app: View your phone's contacts in the Zoom Phone mobile app.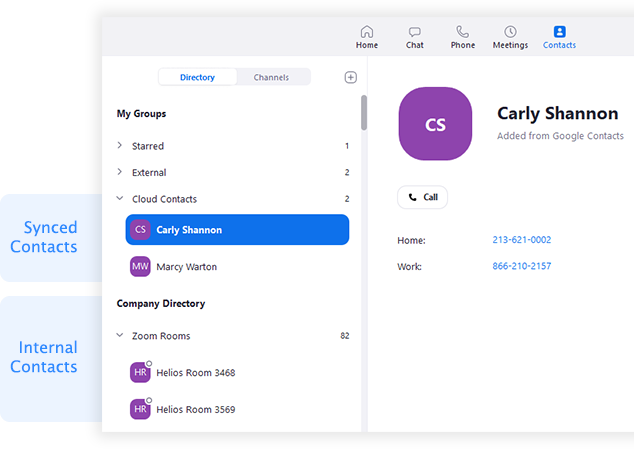 Voicemail
Zoom Phone forwards all unanswered and declined inbound calls to your voicemail. You can use the Zoom desktop client, mobile app, or web portal to play and manage your voicemail messages.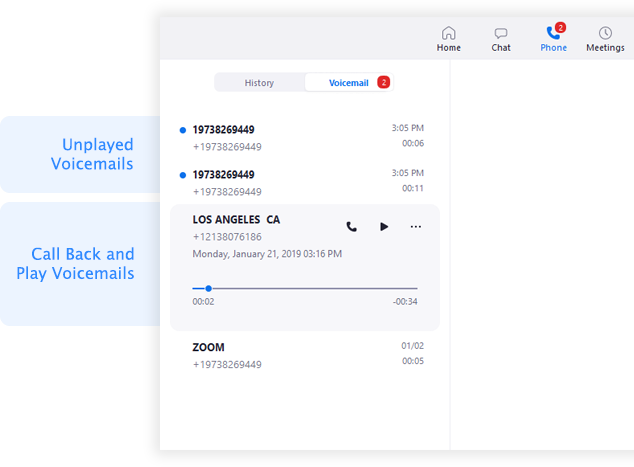 Call history and recordings
After making, receiving, or recording calls, you can check your call history and recordings on the Zoom desktop client, mobile app, or web portal.