Zoom Phone Settings on the Zoom Web Portal
Whether you use a traditional desk phone, bluetooth device or your computer speakers, you'll use the Zoom web portal to adjust your Zoom Phone settings.
Sign in to the Zoom web portal by going to https://davidson.zoom.us/ and clicking "MY ACCOUNT" in the upper right corner.
Click Phone, then click the Settings tab.


Programmable keys
Whether you use a traditional desk phone, or the Zoom app for your phone, you can assign keys to perform actions such as speed dialing.
Scroll down to Keys & Positions and click Edit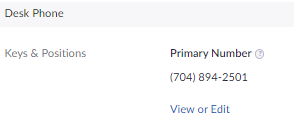 Next, click Manage Key button




Next, click Set Key for the key number you want to use, and use the drop down menu to select the action for the key. enter all other requested information. When finished click "Save" on the bottom right.
Note: If you need a key to dial an outside number, it first has to be added as a contact.
Once a key is programmed, you can simply push the key on your deskphone to initiate the action.
From the Zoom app, you simply need to enter the key number on the dial pad. For example, if I have set up key 3 to call someone, on the zoom app dial pad, I would dial 3 and enter.