Background
The Operating Budget Report is a new way of seeing and interacting with your budget data. Built by Davidson's Technology & Innovation team using Microsoft Power BI, the report uses all the same information as our older suite of budget reports, but with an improved user experience that emphasizes visual analytics and interactivity.
What data can I see in this report?
The report data comes from the Enterprise Data Warehouse (EDW). On a scheduled basis, the data is loaded from the Banner Finance module into the EDW, where it is optimized for reporting and analytics.
The operating budget data currently refreshes daily at the following times (Eastern Standard Time):
1:00 AM
9:00 AM - 6:00 PM (at the top of each hour)
Please note that the data refresh takes a few minutes, so new data may not appear in the report until at least 5 minutes after the top of each hour.

The particular dataset used for this report is limited strictly to operating budget data, which means it contains data only from the following NON-restricted funds:
Fund 10: Current Unrestricted Fund
Fund 30: Capital/Technology Fund
Fund 50: Campaign Fund
The Operating Budget Report uses the same Org and Fund permissions assigned to your Banner account. When you access the report, it will automatically read your college username (DAVIDSON\myusername) and use it to filter the data in the EDW so you can only see what you're entitled to see. If your account has "Master Org" and/or "Master Fund" permissions, you will be able to see all Orgs and Funds in the EDW.
If you don't see a particular Org or Fund when using the report, but you believe you should have access to it, please contact the Business Services team.
Layout
The report contains several pages that are visible along the bottom of your screen as tabs. You can navigate freely throughout the report using these tabs. The first few pages of the report focus on summarizing your current fiscal year (FY) budget vs. actuals for expenses (includes payroll and operating expenses) and revenue. If your department doesn't generate revenue, the visuals on these pages will be blank and you can ignore them.
The subsequent pages a YOY (year over year) comparison of those same categories, where it compares your current FY actuals to the previous FY actuals. So if you are filtered on FY 2019, these pages will compare your FY19 actuals to your FY18 actuals.
The remaining pages should look very familiar because they're based on the old reports: the Monthly Budget Detail allows you to zero in on a particular fiscal month to see its budgeted amounts (annual and monthly), actuals, variance, and YOY comparisons. The Actuals by Month shows your actual expenses across the entire fiscal year, with months being displayed in the column headers. And finally, the Transaction Detail page gives you a way to explore the line-item transactions that make up all this information, with interactive slicers for Transaction Date, Activity Date, and Transaction Amount.
Each of these pages will be discussed in further detail below.
Report-Level Filters
The Operating Budget Report has four primary filter controls which can be accessed using the Filters pane on the right-side of the screen. These are known as "report-level filters," which means they affect all the data in the report.
The three report-level filters are:
Fiscal Year
Org Code and Name
Fund Code and Name
Custom Account Group
By default, the Filters pane is collapsed when you initially run the report, but you can expand it by clicking it once. Once the Filters pane is expanded, you can resize it by clicking and dragging the left edge.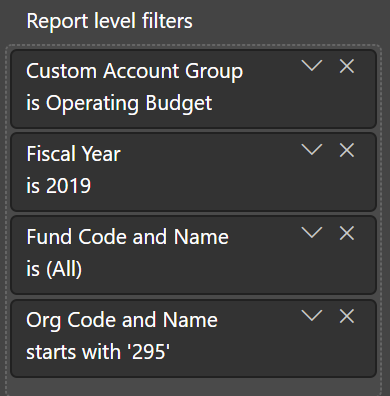 Each of the filters has two modes: Basic Filtering and Advanced Filtering.
In Basic Filtering, you are given a list of values which is scrollable and searchable. To search for a value, simply type a keyword or identifier into the search box, and the list of available values will automatically update based on the search criteria you entered. You can then select one or multiple entries from the list using the white checkboxes to the left of each entry. The screenshot below shows the Organization filter following a search for keyword "communication."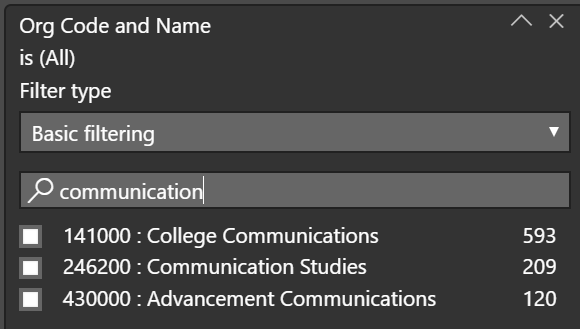 With Advanced Filtering, you won't see a list of values to choose from, but you can use rules to determine a range of values the report will return. For example, you can tell the report to show all Organizations that start with Org Code 35. The screenshot below shows the Organization filter following a search for all Orgs starting with 35 or starting with 295. After determining what rules you want to use, click the "Apply filter" button on the filter card and the report will recalculate.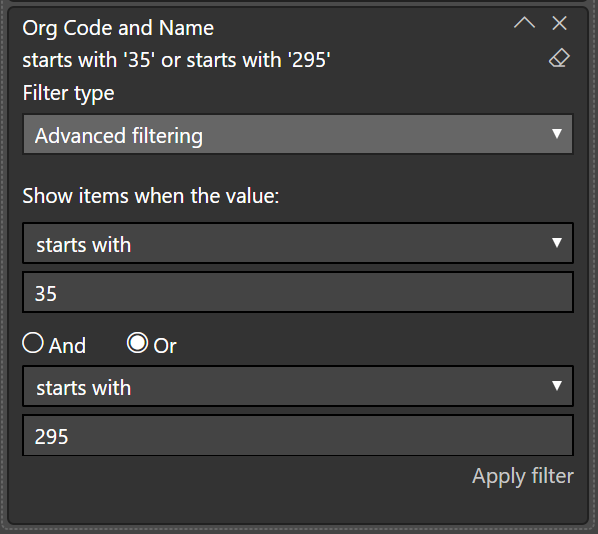 Page-Level Filters
Some pages have different filters applied to them so they can provide a focused view on a particular subset of data. These are called "page-level filters," and the Operating Budget Report makes use of them in several places:
Expenses Overview: Account Group does not equal "Revenue"
Revenue Overview: Account Group equals "Revenue"
Expenses Year-over-Year: Account Group does not equal "Revenue"
Revenue Year-over-Year: Account Group equals "Revenue"
Revenue & Expenses Combined: no page-level filters are applied
Monthly Budget Detail: no page-level filters are applied
Actuals by Month: no page-level filters are applied
Transaction Detail: Rule Class Code does not equal "BD01" (for excluding budget line items)
At any given point while using the Operating Budget Report, you can use the Filters pane to see what filters are currently applied to a page. You also have the ability to edit or remove page-level filters from within the filter pane, but it is not recommended. If you decide to edit or remove a filter, it will not affect other report users, and the filter(s) will be reinstated the next time you reload the report.
Visual-Level Filters
There are currently no visual-level filters applied in the Operating Budget Report.
Does this replace the existing budget reports?
The Operating Budget Report will eventually replace many of the existing budget reports on data.davidson.edu, but for now it is a tool to supplement the existing reports by allowing you to explore your data in a format that is more flexible, easier to maintain, and easier to interpret.