To install PawPrint on a personal device, make sure your device is connected to Eduroam (on-campus). We recommend deleting existing "PawPrinters" prior to installing the new PawPrint options.

PawPrint for Mac OS Ventura (13)
PawPrint for Mac OS Big Sur (11) & Monterey (12.2)

PawPrint for Mac OS 10.12 (Sierra) - 10.15 (Catalina)
Troubleshooting Tip
I see a "hold for authentication" error when I try to print. How can I fix this?
If you see this error, click the refresh icon, remove the auto-filled contents in the Name field, enter your Davidson username (ex. jodoe) and check the box to "remember in keychain", to avoid future prompts.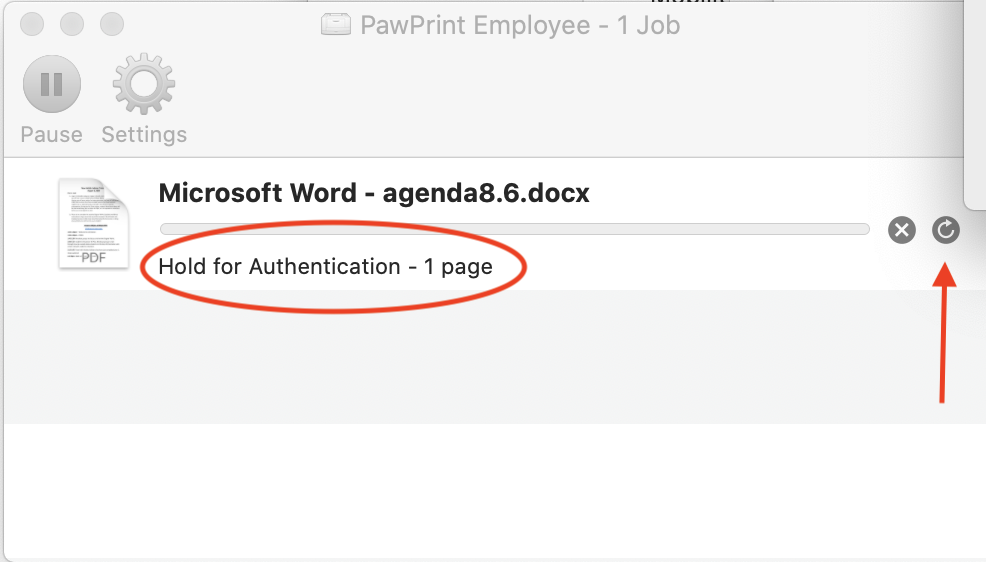 PawPrint for Windows

Once you've installed PawPrint, you are ready to print your document(s). Submit a print job as you normally would and select PawPrint from the printer list. In some programs, you may need to select a dropdown to view the complete list of available printers. If you are printing from GSuite (Docs, Sheets, etc.), select "see more" to view a complete list of available printers.

My installation worked, but I still can't print.
1) Make sure that the lower left corner of the PaperCut Print Deploy lists your email address (example@davidson.edu) and not just username without the '@davidson.edu'. If it doesn't show the email address, use the Change User link to log in again with the full address and your network password.
2) Download this file, https://drive.google.com/file/d/1MeaVgCssuXqIYYAsSHLu7mKh68wt4_vB/view?usp=sharing (you'll have to be logged in to Google Drive with your Davidson account). If your browser warns you that files of this type can be dangerous, reassure it that this one is OK.
3) Open your download location and double click on PawPrintCredFix (or PawPrintCredFix.cmd, depending on your settings). If Microsoft Defender SmartScreen tries to prevent the unrecognized app from running, click More info, then Run anyway.
4) This will open a black cmd.exe window that will prompt for your email address and network password, and then save them in the place where Windows had previously saved an incorrect version of your credentials.
5) Log out and back in, or reboot the computer. This will get it to start using the new credentials instead of the old ones.
6) When Print Deploy starts up again, it should install the printers successfully.

My installation failed. Who should I contact for support?
If the PawPrint installation fails, contact us at ti@davidson.edu. Remember, you can print using our campus lab computers. Here's a link to our Public Computer Labs and Workstations.

Additional Support Articles
PawPrint for Students
Learn more About PawPrint