PawPrint is a networked printing software application that allows students and employees to print from personal computers, Davidson College managed devices, and public labs to networked printers available across campus. This article will walk you through how to print and release documents, copy and scan using PawPrint as an employee.
Do I need to download anything on my college-owned device to start using PawPrint?
No. PawPrint printer drivers are automatically installed on Davidson-owned computers, and will be listed as available printers on your Davidson-owned computer.

If PawPrint has disappeared from your Davidson-owned computer, it is able to be reinstalled via the Self Service application on Mac or the Software Center application on Windows.
PawPrint Printer Types for Employees

Choose the PawPrint options that best meet your printing, scanning, and copying needs.
PawPrint Employee


Meets basic printing needs for employees.

Documents will print black and white only and two-sided by default.

We recommend setting this as your default printer on your computer.

To set a default printer, right-click and choose "set as default".




PawPrint Employee Advanced - Canon
Color printing on all Canons, and advanced finishing features including stapling and 3-hole punch.


PawPrint Employee Advanced - HP
On HP machines that support it, color printing and advanced finishing features including stapling. Some of the HP printers are monochrome only.

Can I install PawPrint on my personal computer?
Yes! See our PawPrint Installation on Personal Devices instructions.

How can my department's student workers print and copy?
PawPrint setup for student employees is part of the standard student employee onboarding process. Learn how students use PawPrint for their employing department.
Printer Basics
Send the Job to Print
Print your document(s) as you normally would and select PawPrint Employee from the list. Depending on your device, you may need to select a dropdown to view the complete list of available printers. If you are printing from GSuite (Docs, Sheets, etc.), select "see more" to view a complete list of available printers. Choose the available option for the printer you'd like to print to: PawPrint Employee, PawPrint Advanced - HP or PawPrint Advanced - Cannon.
Note: Mac users will be prompted to authenticate when using each print queue for the first time. Check the box to save to the keychain to limit this prompt.
Print Release

Go to any PawPrint location
Tap your CatCard

Select Print Release

Check the document

If you are part of more than one department, choose which department will be charged for this job

Check Print as Grayscale and Print as 2-sided to save paper and toner

Click print

Printing in Color
The steps vary depending on your operating system and the printer. Click here for more information.

Copy

Go to a PawPrint location that supports photocopying (all Canons, some HPs)

Tap your card

HP
Canon

Select Access Device

Click Access Device again on the screen with your name and department

Choose Copy

Configure your Copy as needed
Scan
Go to a PawPrint location that supports scanning (all of our Canon devices do; only some of our HPs)

Tap your card

Select Scan

Choose Scan to Email, Dropbox, or Google

Scan your document

You will receive an email to authorize scanning to Google Drive the first time you select the option. Follow the instructions to complete the authorization.
Scan to Google Drive Authorization Example

See a list of PawPrint Printer Types Available

Windows users can view PawPrint printers by searching for Printers & scanners in System Settings.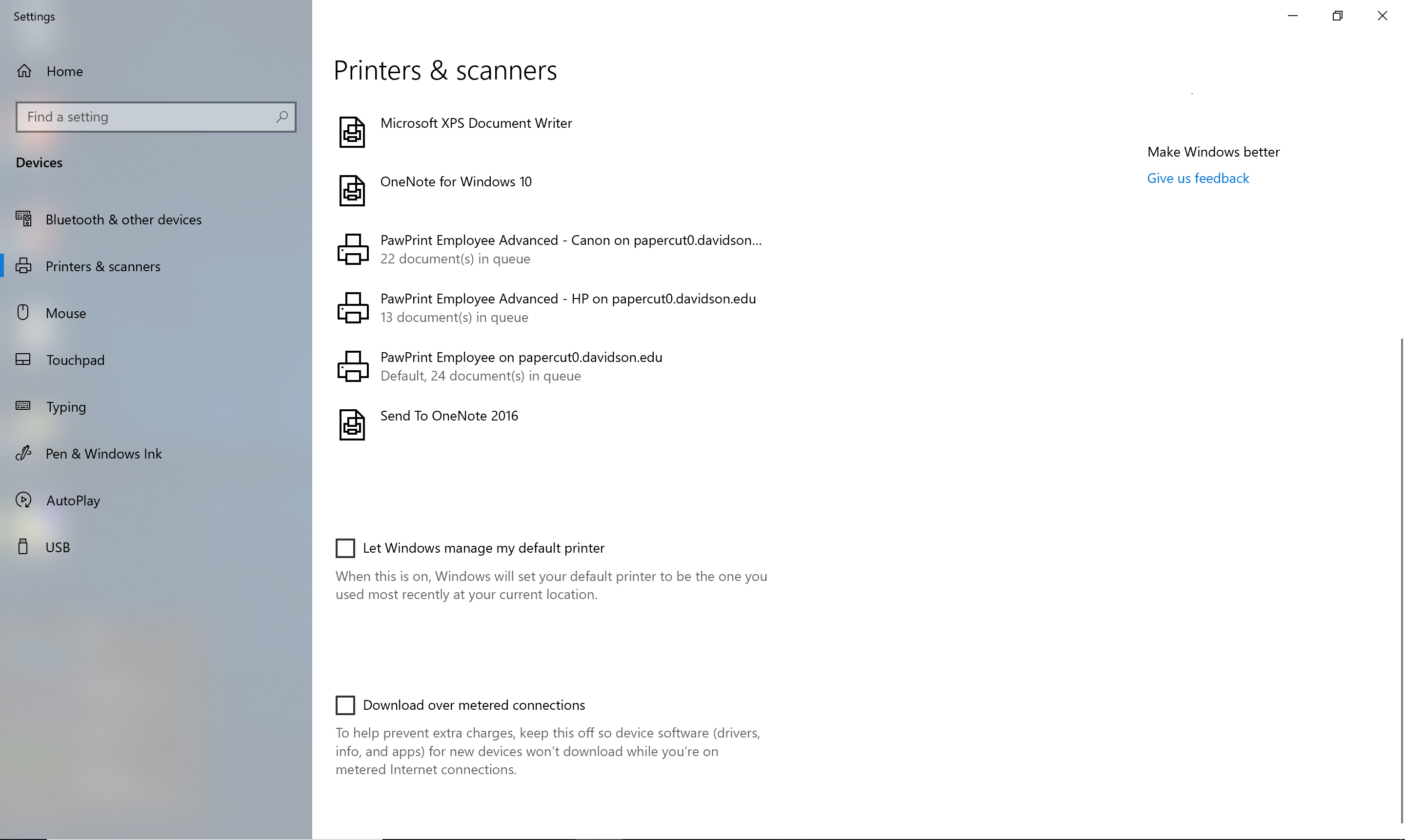 Mac users can view PawPrint printers by clicking on Printers & Scanners in System Preferences