Zoom Phone will replace Cisco as Davidson's telephone provider on June 30, 2022. On this date, all Davidson faculty and staff with college phone numbers will begin using Zoom Phone to make and receive phone calls. For questions about the Zoom Phone transition, please email ti@davidson.edu.
About Zoom Phone
Zoom Phone is an extension of the Zoom app you already are familiar with, and provides a streamlined solution for answering and making calls on mobile devices, desktops, and desk phones. The transition to Zoom Phone will also provide you more flexibility for receiving and making calls from your Davidson number, and an easy way to dial colleagues with or without a desk phone.
Zoom Phone Hardware

Bluetooth Devices Available Now
If you requested a bluetooth device, beginning May 9 you can pick it up from T&I Main on Mondays through Fridays from 2:00 - 4:00 pm. Desktop phones will be distributed to offices later this summer.

Hardware Preferences Survey (Open through May 20)
Let the project team know if you prefer a desk phone, a new bluetooth headset, or to use your own device. Preferred equipment should be requested by May 20, or it may not be available.

Submit your Zoom Phone Hardware Preference

Training Opportunities
Hands-On Training June 7 & 8
Drop by the Union to learn Zoom Phone basics and how to set up your voicemail and other settings.

Tuesday, June 7 and Wednesday, June 8 from 10:00 am - 3:00 pm
Alvarez Room 900

Departmental Training
Want to request training for your whole department? Email ti@davidson.edu to schedule a 1-hour session for your team.
Zoom Phone Setup Basics
Phone settings
Whether you use a traditional desk phone, bluetooth device or your computer speakers, to adjust your Zoom Phone settings, log into the web portal located at https://davidson.zoom.us/
Sign in to the Zoom web portal by going to https://davidson.zoom.us/ and clicking "MY ACCOUNT" in the upper right corner.
Click Phone, then click the Settings tab.


Here are a few essential settings you may want to change:
Emergency Address: Displays the address provided to first responders when dialing an emergency number. Make sure this address is correct.
Business/Closed/Holiday Hours: Change the times when you can answer calls.
Voicemail Greeting: Audio that plays before Zoom Phone routes calls to your voicemail. You can customize this by recording audio directly in the web portal or uploading an audio file.
Contacts
By default, you can call the contacts directory in the Zoom desktop client or mobile app to call people in the same organization. Follow these articles to add contacts from third-party services:

Zoom Desktop client: Sync your contacts with Google, Office 365, or Exchange. After syncing your contacts, you can add synced contacts using your call history or voicemail.

Zoom mobile app: View your phone's contacts in the Zoom Phone mobile app.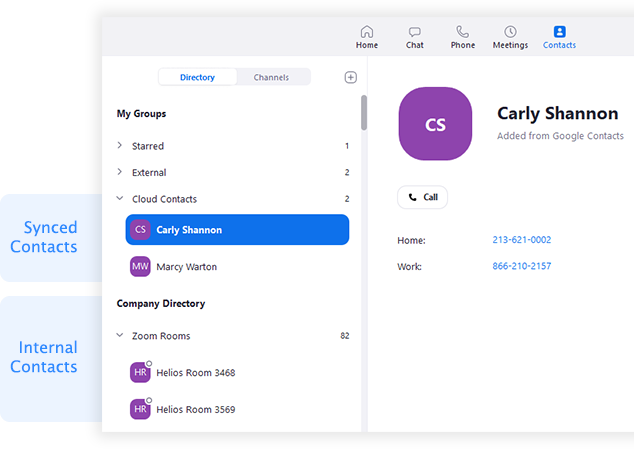 Phone calls
After setup, you can start making and receiving calls using Zoom Phone. Make calls using the dial pad or search through your internal, external or synced contacts. For incoming calls, you can decline a call to route it to your voicemail.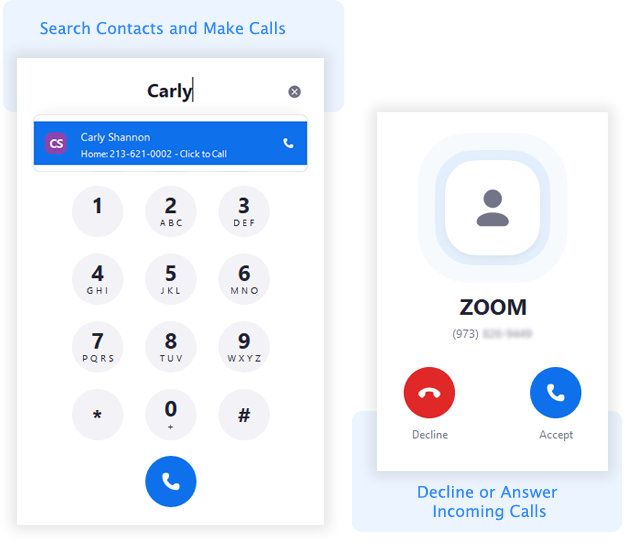 In-call controls
While in a call, you can:
Voicemail
Zoom Phone forwards all unanswered and declined inbound calls to your voicemail. You can use the Zoom desktop client, mobile app, or web portal to play and manage your voicemail messages.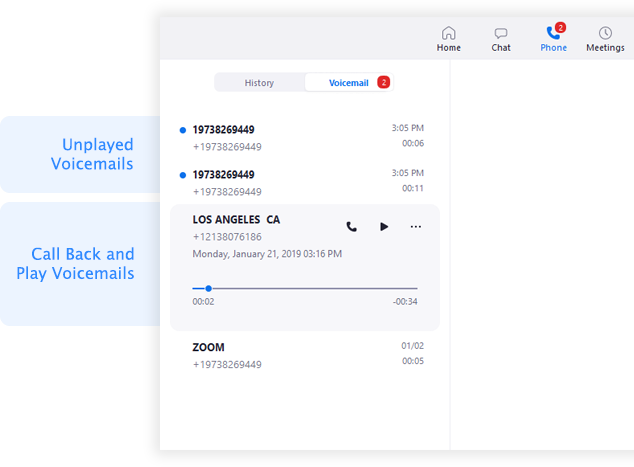 Call history and recordings
After making, receiving, or recording calls, you can check your call history and recordings on the Zoom desktop client, mobile app, or web portal.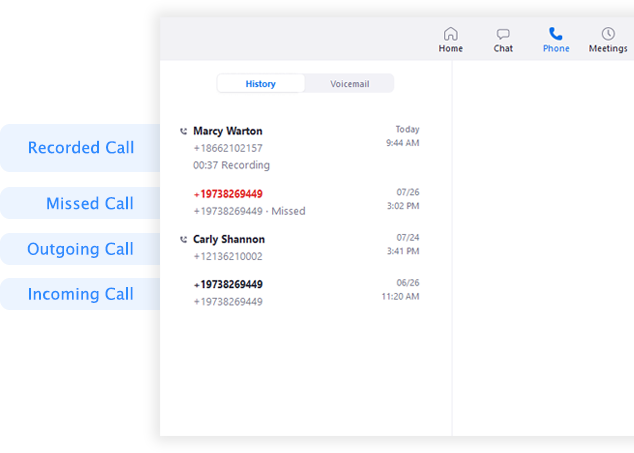 More Information and Support

Getting Started with Zoom Phone for Users
Zoom Phone Frequently Asked Questions – Davidson College
Quick Tips for Polycom VVX Series Phones – Davidson College
Changing phone settings (client or app) – Zoom Support