Zoom Phone replaced Cisco as Davidson's telephone provider on June 30, 2022. On this date, all Davidson faculty and staff with college phone numbers began using Zoom Phone to make and receive phone calls. For more information, see the Getting Started with Zoom Phone Guide.
More Information and Support

Getting Started with Zoom Phone
Quick Tips for Polycom VVX Series Phones
Getting Started with Zoom Phone for Users - Zoom Support
Changing phone settings (client or app) - Zoom Support
Frequent Zoom Phone Questions
1. Why are we switching to Zoom Phone?
Our current Cisco phone technology is reaching the end of its planned lifespan.
Zoom Phone is a cost-effective alternative phone system already widely used across Davidson and some of our peer colleges (like Wellesley and Reed).
Zoom is already widely used across campus, so adding phone service to Zoom means Davidson faculty and staff can do more in an application they already use.
Zoom Phone will allow many Davidson employees that frequently travel or work away from a campus office to have access to phone services wherever they are.
Finally, Zoom lets employees who wish to do so make and receive calls or even send text messages from their College number on their personal device if they wish without having to give out their personal mobile number, improving privacy.
2. Can you answer a Zoom phone call while you are in a regular Zoom meeting?
Yes, when you are in a Zoom meeting you will have the option to hold the meeting and answer, end the meeting and answer, or ignore the call which will send the caller to voicemail.
If you want, you can change your Zoom settings so that phone calls don't interrupt your Zoom meeting.
You may also answer the call on your smartphone while in a meeting on your computer.
You also have the option to escalate any Zoom Phone call directly into a Zoom meeting if you wish to add features like video or screen sharing.
3. Will my phone number change?
No, all numbers will be ported over to Zoom Phone and stay the same.
4. Will people see my personal number if I call from Zoom Phone on my smartphone?
No, if you make a call from the Zoom app on your phone the call recipient will see your Davidson phone number.
5. If I choose to take Zoom phone calls on my computer instead of a desk phone, how does my phone ring?
Your calls will come through the Zoom App on any devices that you're signed in on (computer, smartphone, tablet, etc.). You may go to phone settings on the Zoom portal to change how this behaves - for instance, you can elect to ring a desk phone first then try your mobile phone/computer if you don't answer your desk phone.
5. Do I still need to dial 81 before the number when placing external call?
No, you no longer have to dial 81 for external calls. Simply dial the 10 digit number, for example 704-867-5309
For international calls, you will need to dial the country code and the number.
6. Where do messages go?
In the Phone tab of the Zoom app, there are sections for call history, voicemail (with transcription), and phone lines that you have access to, and SMS messaging. The phone tab will appear once we have completed the Zoom Phone transition.
Zoom will also send you an email whenever you receive a new voicemail message.
7. How will my Zoom Phone device connect for service?
If you choose a desktop phone set for your workspace, your phone will connect to the same wired network port that your current Cisco desk phone uses.
Zoom Phone service on your work computer, smartphone, or other device connects through whatever Internet connection the device is using - this could be the campus wired network, campus Wi-Fi, your home Internet connection, etc.
8. Will Zoom Phone work during a power outage or natural disaster?
Both Cisco and Zoom desk phones will only work if the campus network is working, but unlike Cisco, Zoom Phone will work from smartphones and computers over any Internet connection including cellular, giving us more options for resiliency and mobility.
9. How using Zoom Phone with earbuds/headset would work? Would any calls to your office ring through your computer?
When using a mobile device: the sound will come through your phone speaker, or default to your bluetooth device if there is one connected.
When using a computer: It will use the same device that you use for Zoom meetings (built in microphone/speakers, or any connected audio devices such as bluetooth earbuds.)
When using a desk phone: The phone will work the same way that the current Cisco phones work. You can talk and listen using the handset; place a call on speaker phone; or optionally connect a wired phone headset. Please contact T&I for more information on these options.
10. If you elect not to have a desk phone, where would calls go if your computer is off or you aren't on campus?
Any device with the Zoom client on it can make or receive phone calls. You can set the days/hours you wish to receive calls to prevent getting calls outside of your work availability.
Devices with the Zoom client can get calls off-campus as long as the device has any Internet connection.
If you choose to install Zoom on a mobile device like a hotspot, you can make/receive calls even when your computer is off or in sleep mode.
If you opt for a desk phone, the phone will ring simultaneously with your computer (unless you chose sequential ringing from question 2 above.)
11. What are the costs associated with my device selection?
There is no additional cost to the College if you use your own device.
Davidson-purchased earbuds/headsets will cost between $50-$100 each, depending on the model that we select.
The traditional desk phone is the most expensive option for the College, at $155 for each phone set we purchase.
12. Do I still need to dial 81+phone number to dial outside of Davidson with Zoom Phone?
No, any calls can be made with the extension for internal calls, or just the 10 digit phone number.
13. We use a shared line in my department, will this still work?
Yes, managing shared lines and permissions is very easy in the Zoom web portal.
14. What does calling look like on Zoom Phone?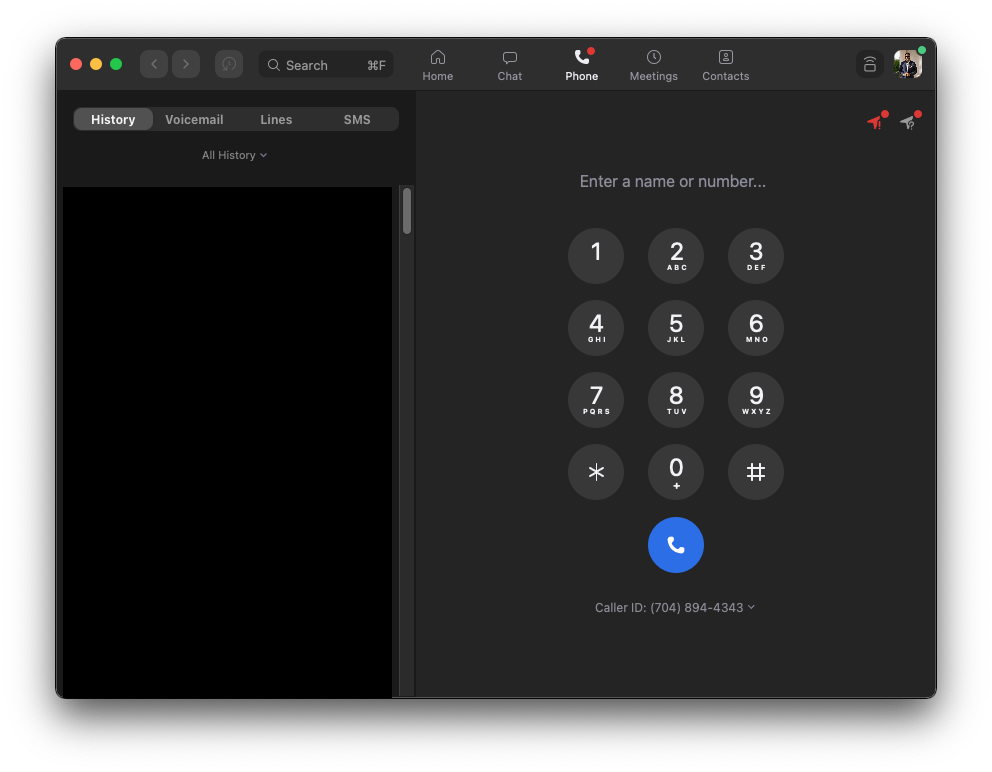 Above: This is how you dial phone numbers on the computer interface, you also have the option to search by name.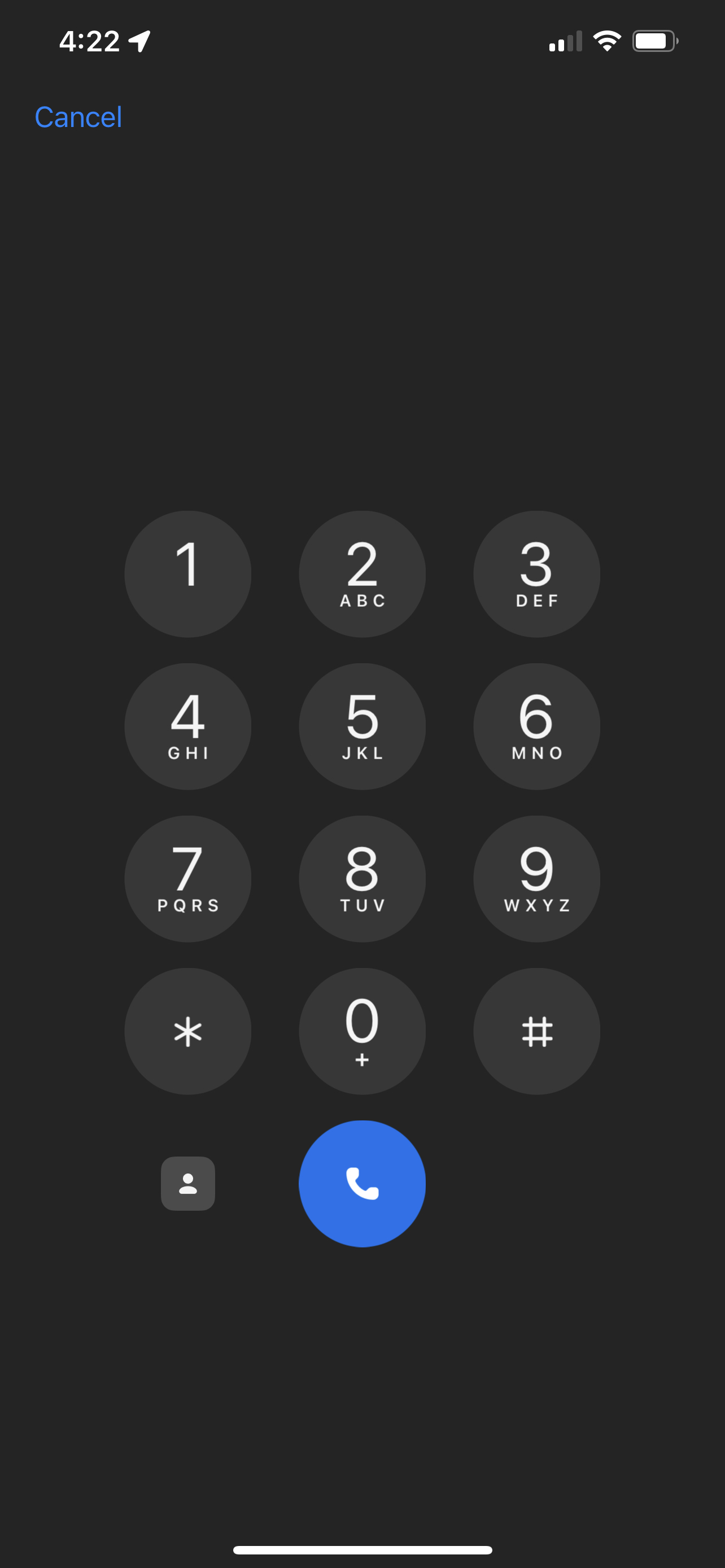 Above: This is how you dial phone numbers on the smartphone Zoom app, you also have the option to search by name by clicking the contacts button.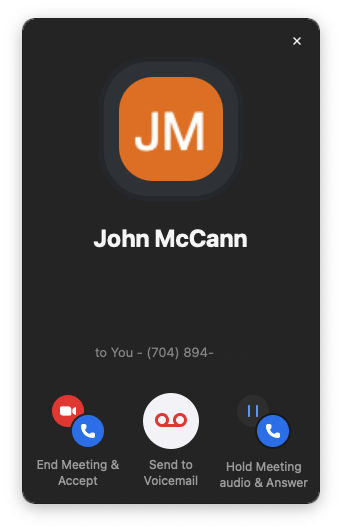 Above: Receiving a call on the computer interface.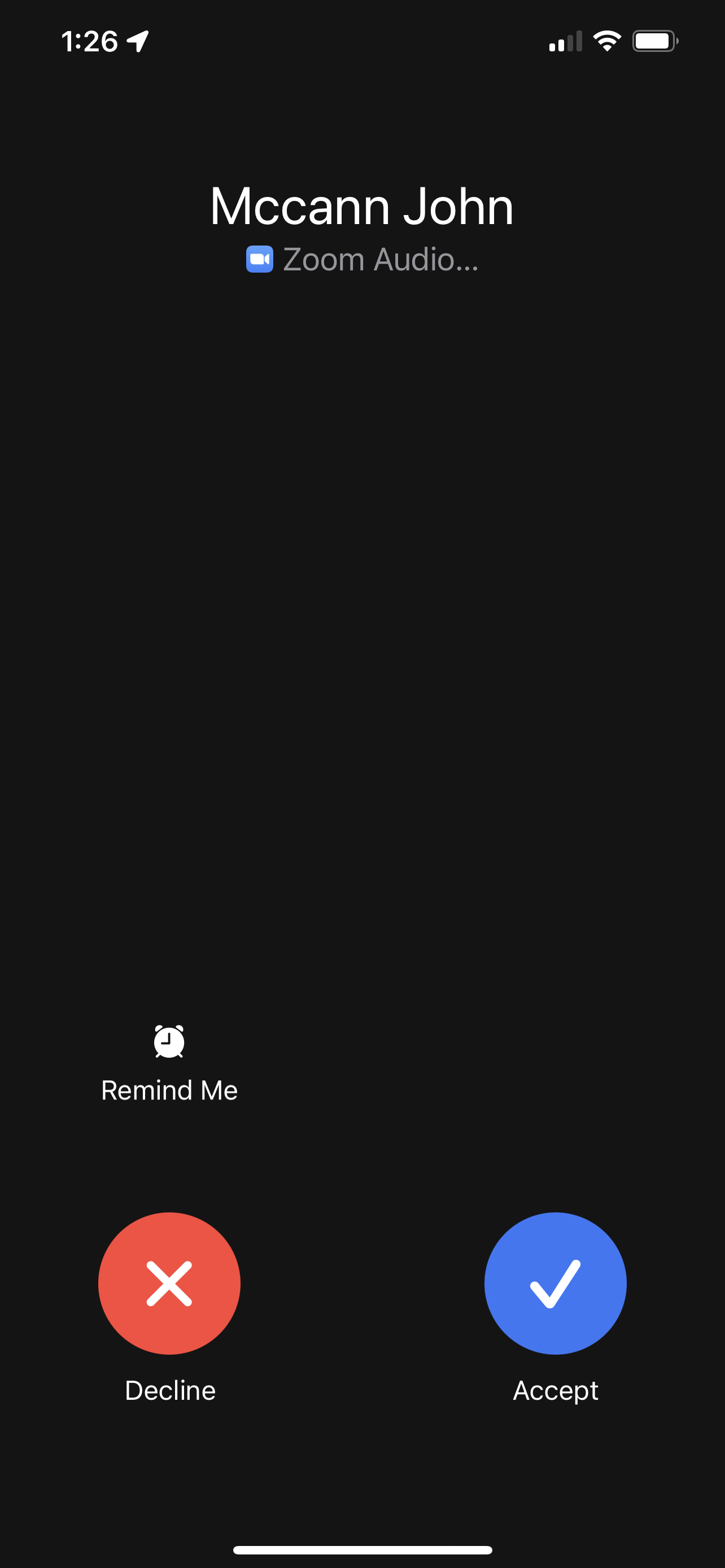 Above: Receiving a call on a smartphone.
15. If I opt for a traditional desk phone, what will it look like?